Gumbo with Andouille Sausage
Ingredients:

4 cups Beef Broth (or 3 cups Beef Broth and 1 cup Chicken Broth)
1 1/2 to 2 tsp Cajun Seasoning (see below)
1/3 cup of Vegetable Oil
1 pound fresh Andouille Sausage
1/2 cup of all purpose flour
1 onion
1 green pepper
2 stalks celery
2 cups cooked chicken (generally two chicken breasts)

Cajun Seasoning
We make this in advance in larger quantities so that we have it on hand; that way you are not having to mix this together when making a particular recipe. This seasoning is good in several dishes that require a bit of 'heat'.

Mix equal parts of:
White Pepper

Black Pepper

Garlic Powder

Onion Powder

Cayenne Pepper

Paprika

Cook the chicken by boiling each breast for 15-20 minutes.
Stir 1 1/2 to 2 tsp of cajun seasoning into the broth (depending upon how spicy you want the dish to be) and stir. Allow mixture to stand.
Slice the Andouille sausage into 1/4" slices.
Slice the chicken into half-inch cubes.
Dice the green pepper.
Slice the celery into thin, halved slices.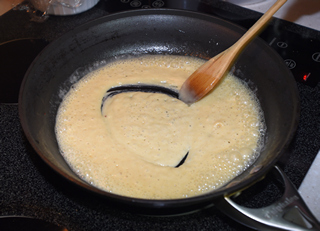 Making the Roux

Place a sheet of aluminum foil (about 14" long sheet) on the counter and cover it with two layers of paper towel. This will be for draining the cooked Andouille sausage.

Heat 2 tablespoons of vegetable oil in a saucepan (12-inch) over medium heat. Add the Andouille sausage and cook until brown. When the sausage has browned, remove it from the pan and set the slices on the paper towel. Do not discard the drippings that remain in the pan. Reduce the heat to medium-low and stir in the remaining oil and flour to make a roux. Stir the mixture until it becomes a dark brown color. Stir in the onion, the pepper, and the celery and cook for 15 minutes.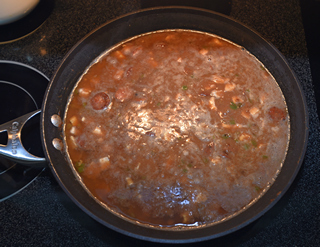 Gumbo Simmering

Pour the broth into the sauce pan. Some of the mixture may stay in the bottom so as you empty the container of broth, reserve some of the broth to swirl the mixture with in order to get it all out. Stir in the chicken and sausage and bring the mixture to a boil. Reduce the heat to low and let it simmer for 20 minutes.